Anna and Sam have a great cousin, Buddy, the Golden Retriever. He lives in Japan with Uncle Tom and Aunt Deb. He sends cards and presetns adn loves them very much. We got a new package today. How that dog knows things, I've no idea. Anna got a great St. Patrick's headband and Sam got a leprechaun hat. Anna was ready to go and play, but mean mom made her pose.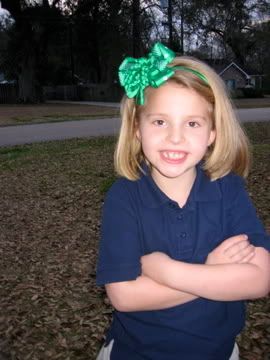 This was all I got, but still she looks cute.
Ham-boy loves his hat. He will always smile for the camera, well, most always.
Then we jump into crazy Sam. And silly man, who wants to see each shot as it comes out and if he doesn't enjoy the shot, poses again and again.
and again and again.....
Thanks Buddy, we will have fun with these treats!