It has been gorgeous here lately. I love spring and fall for the cool mornings. I know they don't last long, so we try and enjoy them as much as possible. We had a busy weekend. Lots of yard work and some housework. Mostly just lots of outside time.
Grilled both days of the weekend - yummy. Love burgers and grilled shrimp and veggies. We adjusted our usual dinner schedule and had everyone over last night. We even got a few extra cousins to come. Casey, Lynn and Casey's boyfriend, Clay, whom Anna and Sam destroyed with play and usual kid antics.
Worked on getting summer camps scheduled. Not sure if we will do it all but it is a start. I need to figure out which main camp to send Anna to!
I even got some scrapping done (nothing on the scrap room, but it will come).
I did two 2-page spreads for the store to show off some new paper:
These shots are of Anna, yep, that is auburn hair.... it was before her reverse highlight change to blond. I absolutely love the little outfit. My favorite picture is, of course, the butt shot with her bending over to pick something up. It was an absolutely gorgeous day! We visisted Jackson Creek on our way back to Denver from our Mommies of July (june and august, too) 2000 small reunion. Jackson Creek is where Dixon woudl go and do his summer dirt bike riding trips. These were in the opening where they'd camp for a week. The paper was so fun to use, out of my norm, which made it more exciting. I took the pictures before I included the title: Trekking!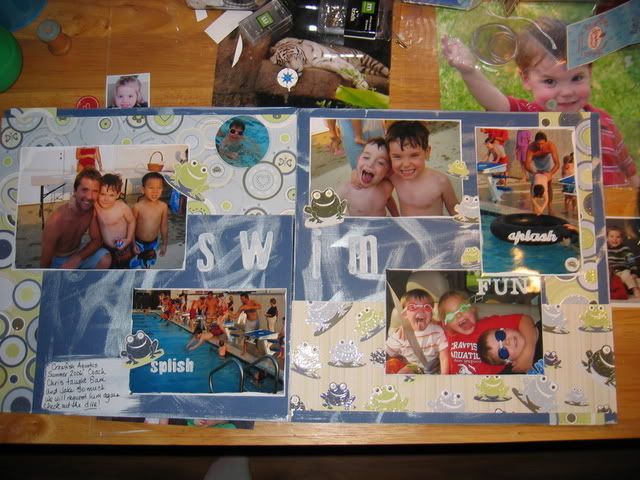 Sam and Jake is there a better friendship out there, I don't think so. Last summer, Jake rode with us to swim lessons at Crawfish Aquatics. We enjoyed these trips, as you can see. Sam and Jake in the same swim class turned out to be not such a great idea, but the pictures are cute none the less. Chris was the boys coach, very cute and sweet. We will head back to Crawfish Aquatics this year for more training. Wonder how they will do! Maybe we can even get Chris again. Absolutley loved the frogs. I wish I had some frog pictures with the kids, but I couldn't find any. I know there are some somewhere. I
WILL
finish organizing, I promise.
Funny how scrapping makes we want to scrap even more often. I am ready for my room, but patience is a virtue right? How many points do I get for waiting three years?