This is Emmett Kelly, my folks new Harlequin Great Dane. Their older pup, Titus, passed away two weeks ago. Luckily, the kids and I were visiting. It was a sad time. Mom always wanted a Harlequin. So, I checked the paper yesterday and one Great Dane was available. And here we have him - Emmet
Mom will be coming to get him early this week. He is a bit of a pup still, only 10 months old. He weighs in at 120 lbs. I would guess he will grow a bit more and gain another 30 or 40 lbs.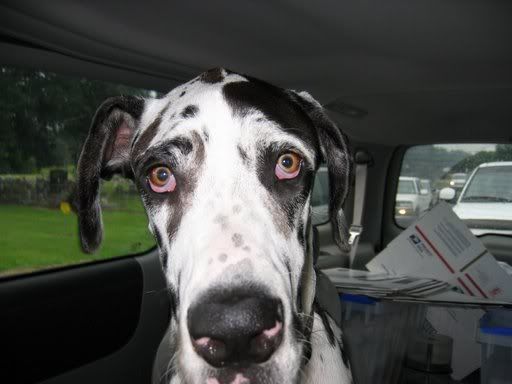 Check out this sweet face. Doesn't he just make you smile.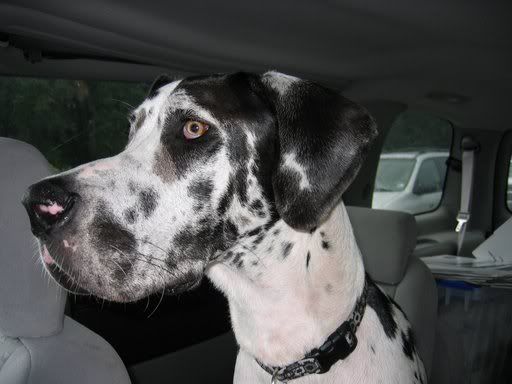 He was so well behaved in the car. Ok, I will admit, he drank some of my hot chocolate. Sweet tooth! opps!
He scared the heck out of our cousin, Lyn. The look on her face when she walked in the door was pure horror. Poor Lyn, she came over to watch the kids for a bit. Ben was in town and we all (and Kat) went to the Chimes East for dinner.
Ellie is only 70 lbs. I always think of her as a big dog. Poor El, she has been a great hostess dog. I know she will be happy to see Emmett go. She knows where to hang out when she wants a break from a rambunctious puppy. She will hide under the dining room table, where Emmett can't go.
But, Emmett is a Southern dog. A South Louisiana dog, he loves Abita, of course. Good Boy!
But, this experience has told me that we aren't ready for our next dog. I still miss Indy, but we just don't have the room. I think we will wait until we move.